Roll over image to zoom in
---
Our world-class Customer Experience team is here to answer all of your questions and make your buying experience rad.
Help Center
Contact Us
Call Our Support Team: 1-800-939-0310
Expanded Shipping Window
You may have noticed that the shipping date for some models is currently listed as several months away.
While we understand that this is a long time to wait, we wanted to make sure that these bikes were available to purchase for any rider who had their heart set on a preferred model and wanted to secure theirs well in advance.
The dates listed are as accurate as possible, but please note that the entire manufacturing world is in the middle of a global supply chain challenge. As a result, there are some variables that are out of our control (like container shortages, port delays, and the Suez Canal incident).
We know how excited you are to get your new ebike and we are continually scaling up our operations to get it to you as soon as possible.
Assembly Difficulty
Anyone Can Do It
Leave It To The Pros
Requires some technical skill, we recommend our ebike assembly service so you're ready-to-ride
---
LET RAD BUILD IT FOR YOU
Rad Mobile Service will build your bike and deliver it to your door.
To meet the needs of our busy riders, we offer on-demand ebike assembly and delivery. Rad electric bikes come mostly assembled in the box, however some ebike models are more difficult to assemble than others. The "Assembly Difficulty" indicator above can give you an idea of how difficult this bike is to assemble.
---
---
RadMini 4
The Rugged Space Saver
The new RadMini Step-Thru 2 encompasses so much of our design philosophy: to make bikes that combine power with ease, convenience, and accessibility. With a streamlined throttle design and handlebars that have been upgraded for a more comfortable, ergonomic ride, we've taken that mindset to a whole new level.
Hop On, Hop Off, Stow Away
The RadMini Step-Thru features our lowest standover height of any model. Add to that the adjustable handlebar stem and the most robust folding mechanism ever built, and you've got a remarkably accessible fat tire ebike.
Technical Specifications
This is what makes the RadMini Step-Thru 2 the best in its class.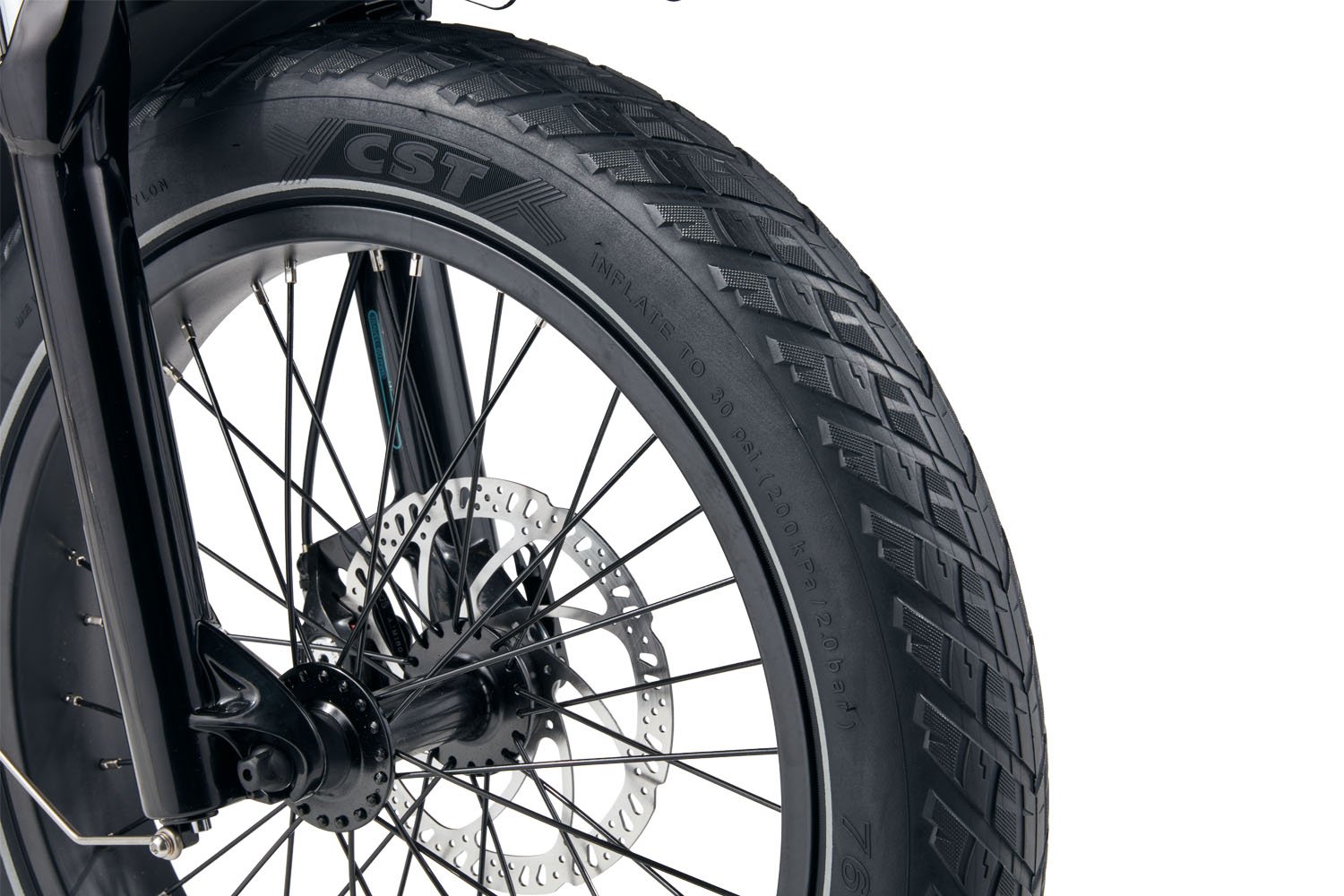 Puncture-Resistant Tires
The integrated tire liner is a line of defense designed to provide extra protection against punctures from thorns, glass, and other small materials.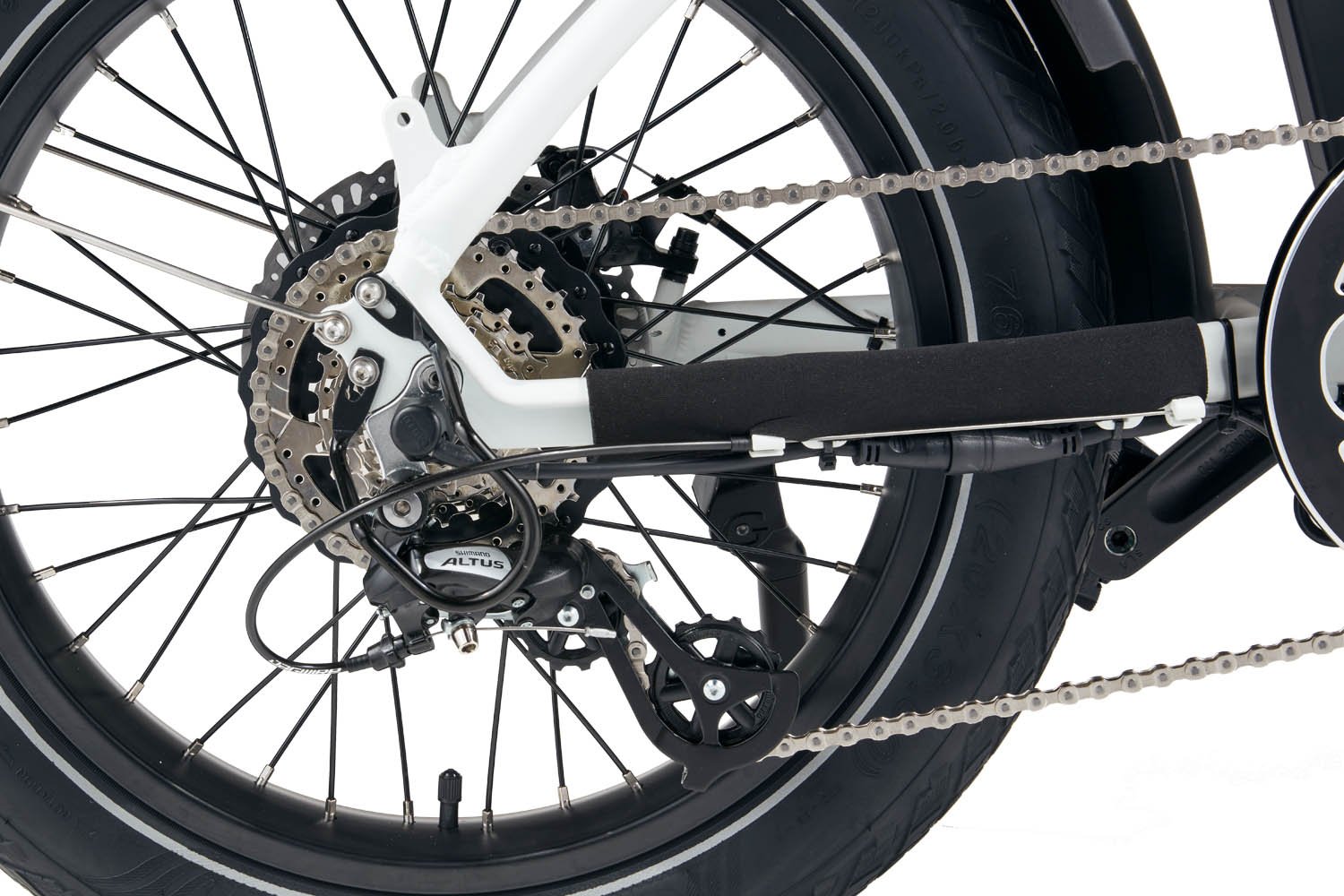 7-Speed, 11-34 Tooth Freewheel
A wider range of gearing at your disposal means more torque for treacherous uphill climbs and maintain pedal authority at top speed.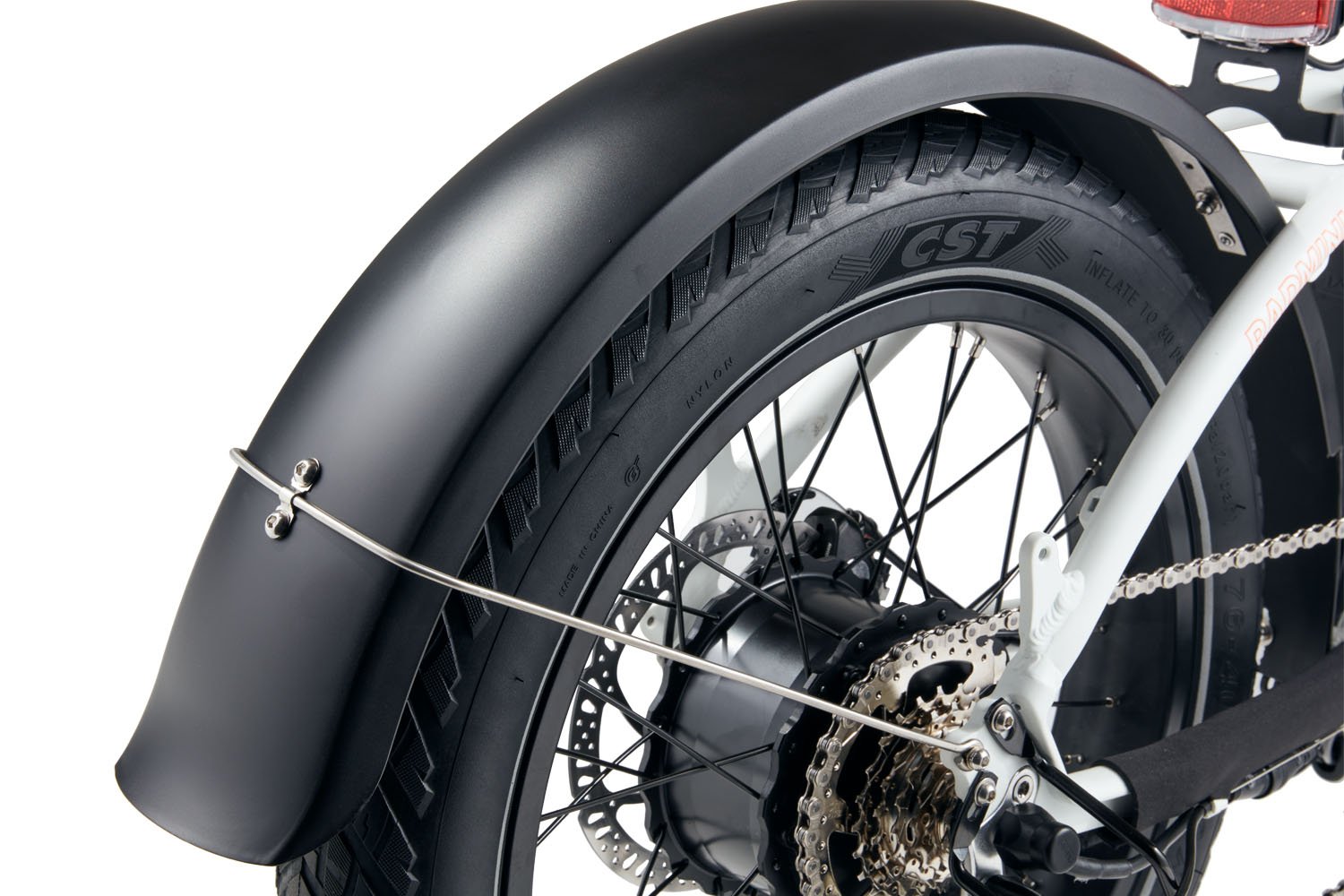 Front and Rear Fenders
Included front and rear fenders made from durable PVC and stainless-steel hardware help protect you from the elements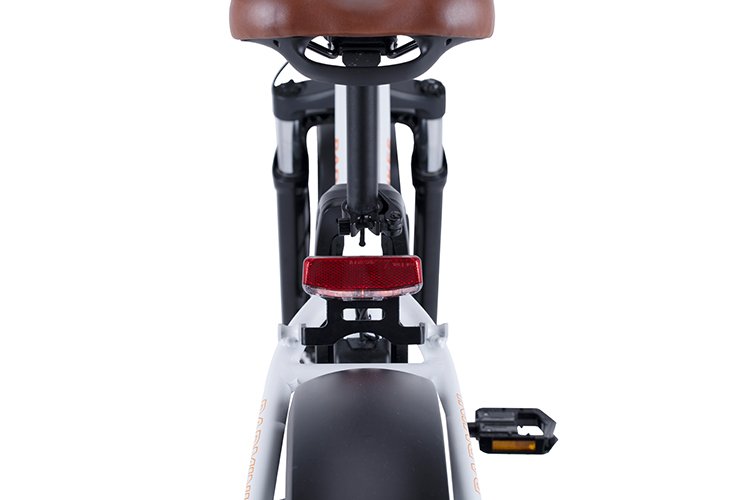 Integrated Brake Light
Powered using the main battery pack and features brake light functionality that is activated any time the brakes are applied.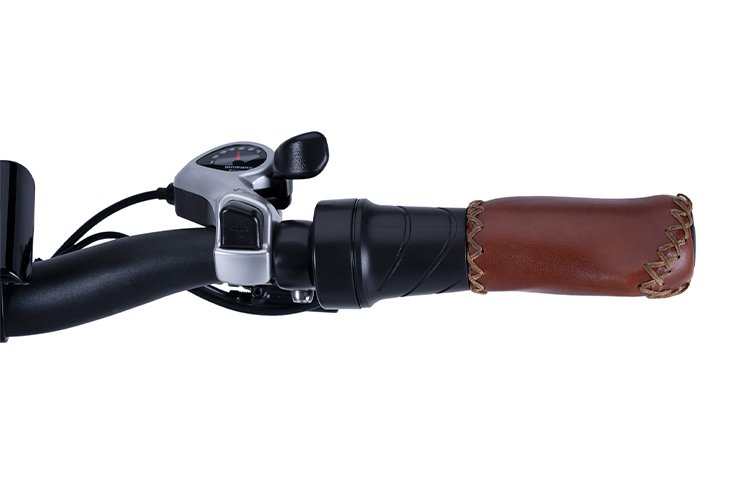 Twist Grip Throttle
750W of power on-demand.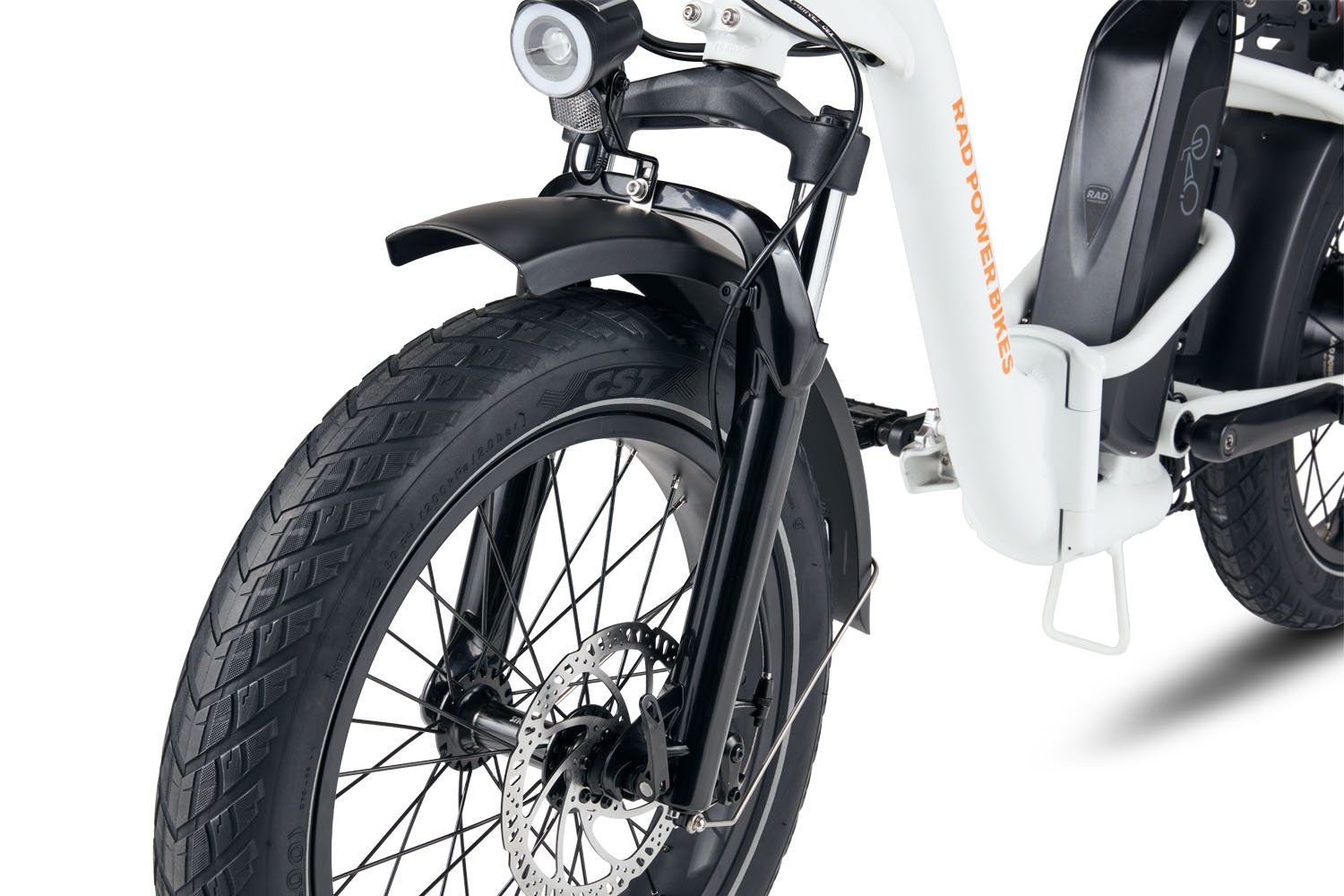 Front Suspension Fork
Our custom Rad Power Bikes RST suspension fork has 80 mm of travel, preload adjustment, and lockout.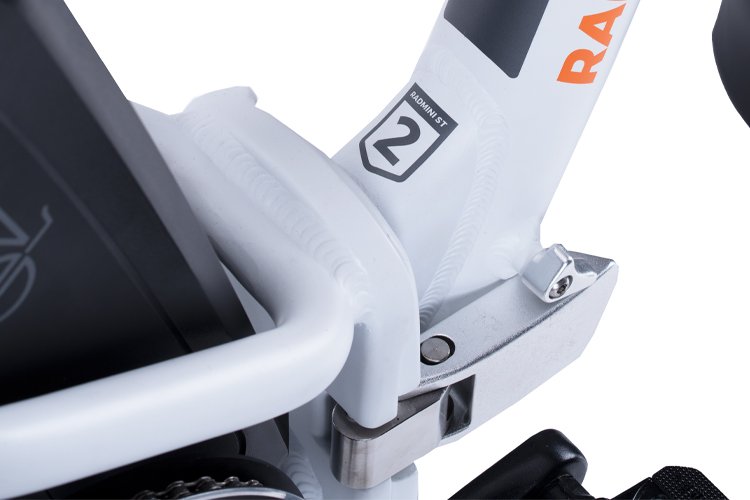 The Strongest Hinge Ever Made for a Folding Ebike
Over-built on purpose, the primary folding hinge has multiple safety redundancies to help prevent accidental unlatching and ensure the RadMini Step-Thru feels solid and secure when locked properly.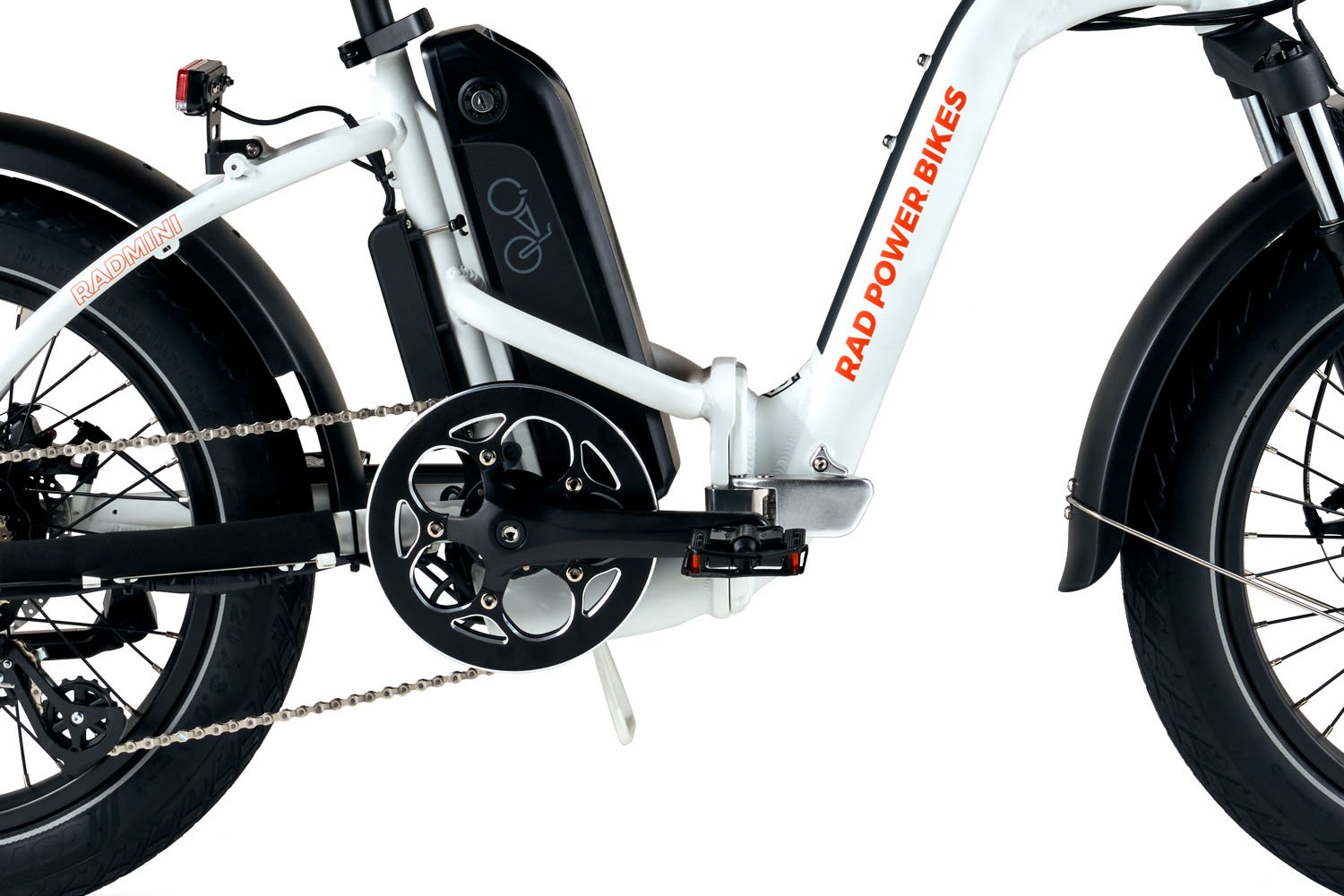 Low-Step Frame
Featuring a 16" stand over height, this bike is perfect for those needing a more approachable package without sacrificing features or functionality.
Best Folding Electric Fat Bike of 2021
"This is a unique bike, there just really isn't a lot on the market that's like this, especially at this price point."